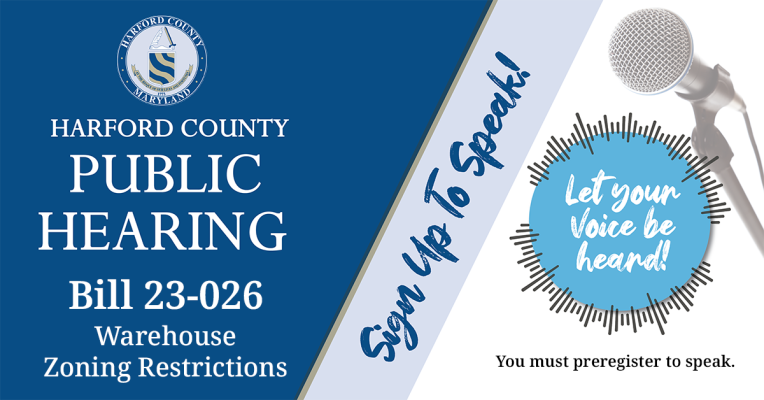 The public hearing on the Warehouse Zoning Bill 23-026 will be on Monday, October 2 at 6:00pm in the Harford County Council chambers. Here is the information you need to help prepare you for testimony.
Location of County Council Meeting
212 S. Bond Street
Bel Air, MD 21014
Phone: (410) 638-3343
——————————————-
Name, Address (you must state your name and address before you begin your testimony)
Testifying in support of Bill 23-026 Warehouse Zoning –  as amended by 3P
General Testimony Guidelines
Each speaker gets 3 minutes (Note: When there is a large number of speakers the time could be reduced to 2 minutes)

Each speaker must register before by sending an email to Council@harfordcountycouncil.com

Try to submit written testimony in addition to your in person oral testimony. Written testimony should be submitted to

Council@harfordcountycouncil.com

by 3pm on October 2, 2023. If you miss this deadline, do not panic, but get it in as early as possible

Reading the Warehouse Zoning Bill

will help you prepare for testimony. All testimony should have reasons why you support the moratorium. Don't waste time with unrelated matters.

Having bullet points with you can help keep you on message
Ten tips for giving public testimony in support of Harford County Council Bill No. 23-026, Warehouse Zoning –  as amended by 3P:
When testifying, it's important to make a strong first impression and capture the attention of the council members. Start with a powerful opening statement, such as "I support the Warehouse Zoning Bill as amended by 3P because our community cannot withstand any more large-scale warehouses causing harm and disruption." This will help set the tone for your testimony and convey your position clearly and effectively.

Know your audience – do some research on the council members and their backgrounds, and tailor your message accordingly.

Stick to the point – keep your testimony concise and focused on the issue at hand. Council members have busy schedules and will appreciate brevity.

Use personal stories and examples to illustrate your points. For instance, "I live near a warehouse, and I can tell you firsthand that the traffic congestion and pollution are unbearable."

Be passionate and enthusiastic, but also respectful and professional. Remember, you are representing the community and want to be taken seriously.

Practice your testimony beforehand – rehearsing will help you feel more confident and polished when you speak in front of the council.

Use facts and data to support your arguments. For example, "Studies have shown that large warehouses contribute to increased air pollution and decreased property values in surrounding areas."

Consider emailing in advance visual aids, such as graphs or photos, to help make your points more impactful.

End with a clear and compelling call to action. For instance, "I urge the council to pass 23-026 Warehouse Zoning and protect our community from further harm."

Finally, don't forget to thank the council for their time and consideration. It's important to show appreciation for their service and attention to the issues affecting the community.