EMERGENCY Perryman Community Town Hall
August 30 @ 6:30 pm

-

8:30 pm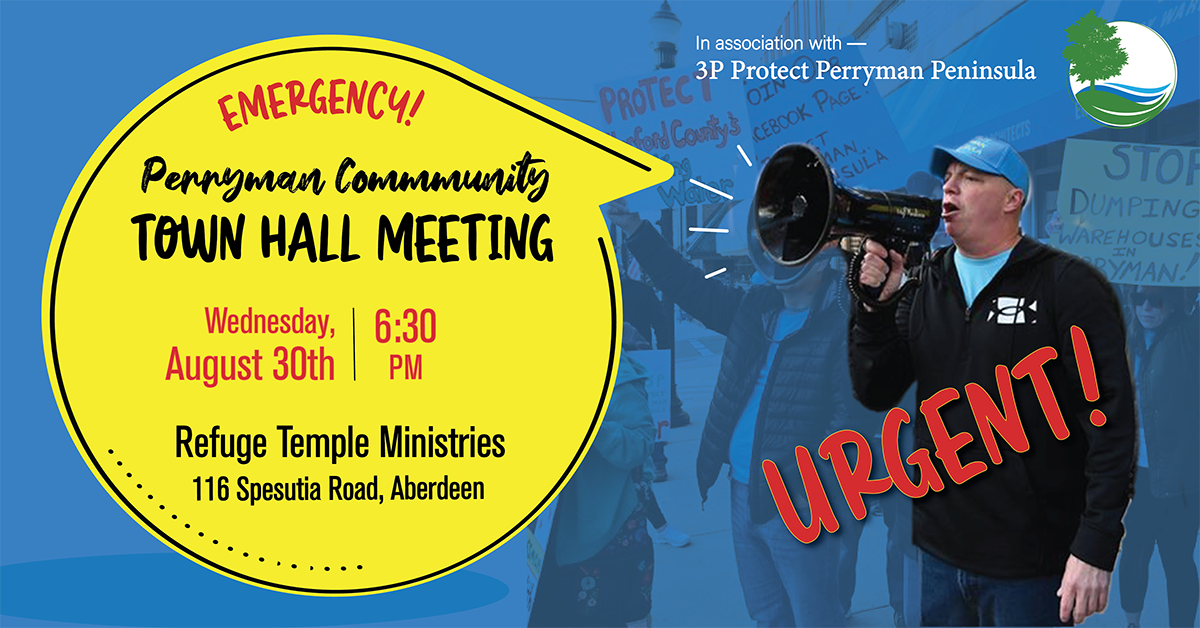 Since the brave enactment of the Warehouse Moratorium in March, both the Cassilly administration and 3P have been working tirelessly together. Their collective efforts protected Mitchell Farm and upheld the beauty and character of Perryman. Together, they successfully implemented two land use moratoriums, with the last set to expire in mid-October. During this intense period, Harford County also engaged in negotiations with CREG, suspended litigation, and conducted community visioning sessions, all aiming to keep Perryman's integrity intact.
Join us for an Emergency Town Hall Meeting on August 30, 2023, at 6:30pm at Refuge Temple, 116 Spesutia Road in Perryman to learn details about Bob Cassilly's (County Executive) current position on mega-warehouses that are proposed in Perryman and other parts of the County. Along with Bob, Pat Vincenti (County Council President), Jacob Bennett (County Council District F), Andre Johnson (House of Delegate District 34A), Mary-Dulany James (State Senate District 34) and other local leaders will be in attendance to listen and provide solutions to the mega-warehouses being proposed in Perryman and other parts of the County.
Agenda items include:
Receive the latest information on the warehouse legislation drafted over the summer.
Learn about the current plans for the Mitchell Farm freight terminal project.
Hear updates on meetings and community gatherings to help Protect Perryman.
Join in a discussion on other urgent matters affecting our community.
Together, we will protect the Perryman area and the County we cherish. Join us in this critical endeavor.