FOR BETTER VIEWING ON PHONES TURN LANDSCAPE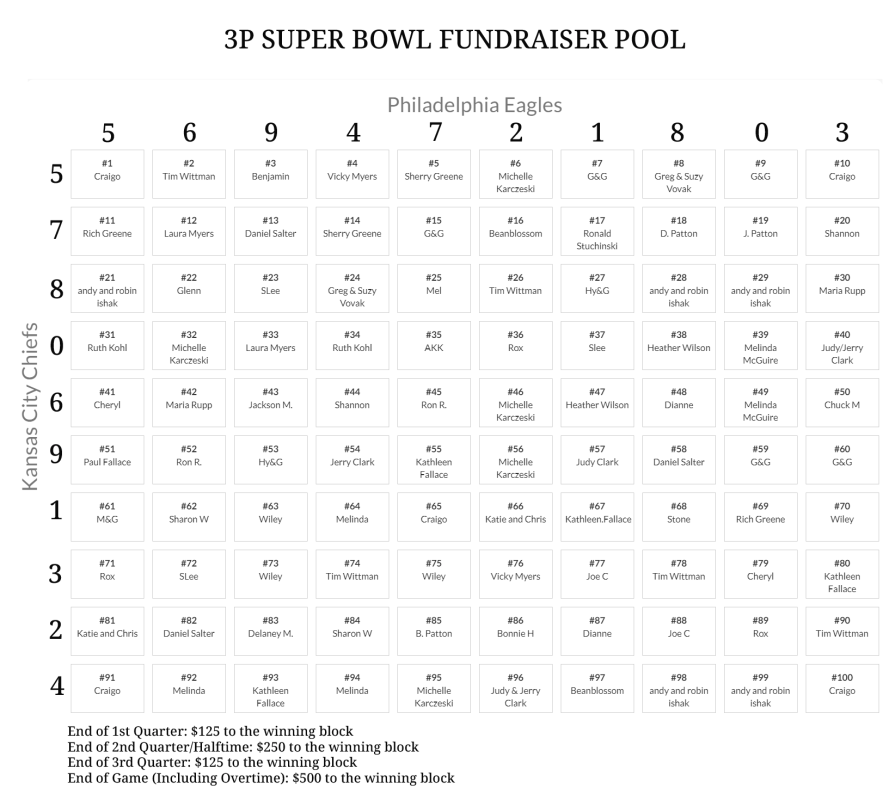 How to Play:
Each $20.00 donation gives you 1 block on the 100 block grid.
Select your block(s) from the online grid below in STEP 1. Click on an open block and enter your name.
Once you have selected all of your blocks use the electronic payment section in STEP 2 below to make your donation via credit card, PayPal or other electronic methods. Your blocks are not officially yours until donations are collected. We will update the block as "PAID" once we have verified your payment.
The row and column numbers (0-9) will be randomly picked on 2/11/2023 at 6pm. These numbers represent the last number in the score of each team. For example, if the score at the end of the first quarter is Eagles 17 – Chiefs 14, then the winning square is the one with a Eagles number of 7 across the top, and a Chiefs number of 4 down the right side.
The final 2/12/2023 game day squares grid will be available here on 2/11/2023 at 6pm. An email will also be sent to all participants with the final game day grid.
Prizes:
End of 1st Quarter: $125 to the winning block
End of 2nd Quarter/Halftime: $250 to the winning block
End of 3rd Quarter: $125 to the winning block
End of Game (Including Overtime): $500 to the winning block
For further details or questions please email info@protectperryman.com or submit comments below.
---